YOUR TRUSTED DUBLIN PUMP REPAIR TEAM
Consult With Our Experienced Team Of Technicians For Solutions
Pumps Dublin are part of the well renowned Infinity Electrical Group. At www.ecoelectricheaters.ie, we also provide installations for brand new modern Eco Electric storage heating. If you have an immersion that has a fault and needs to be replaced then visit us at immersion-heater.ie. If you require any other assistance in relation to electrical or plumbing issues, then please contact Infinity electrical group on mobile: 083-1625009 or landline: 01-4458543.
FIXED PRICE REPAIRS INCLUDING PARTS, LABOUR AND VAT
12 months warranty on parts | Friendly and prompt service |  
| Full service on all pump repairs | Guide on how to use your pump
As part of the Infinity Electrical Group, our professional technicians are RECI registered, fully insured and trained in all aspects of pump installations, replacements and repairs. 
Our highly skilled technicians are experienced in dealing with Stuart Turner pumps, Salamander pumps and Grundfos pumps amongst other well know pump brands. 
Do you have a faulty Grundfos pump that is in need of repair? Need a replacement Grundfos pump? Or would you like to know more about a Grundfos pump installation? Call one of our team now who will be happy to assist you. 
About the Grundfos Range:
These are regenerative, premium, heavy duty, brass pumps and the range is without a doubt been described as the "Rolls Royce" of the Grundfos range. Suitable for both domestic and commercial use, this range of pumps has been manufactured and designed to the top-level standards offering immense levels of strength and efficiency.
The pumps have been specially fitted with long lasting anti-vibration feet and silicon carbide seals to help minimise running noises.
All the brass pumps are complete with flexible hoses that are stainless steel and are protected by a 2-year manufacturing warranty.
These are affordable, regenerative, high-performance pumps.
The innovative design of these pumps incorporates a low set speed induction motor to give a longer pump life and feet with no vibration, this will ensure that the operational sound is minimal. This range has been fitted and protected with automatic thermal overload this means that the motor pump will shut down to avoid any overheating, this will reset within thirty to sixty minutes and are most suitable for bathroom applications and domestic shower. Each pump comes with a 2-year manufacturer's warranty.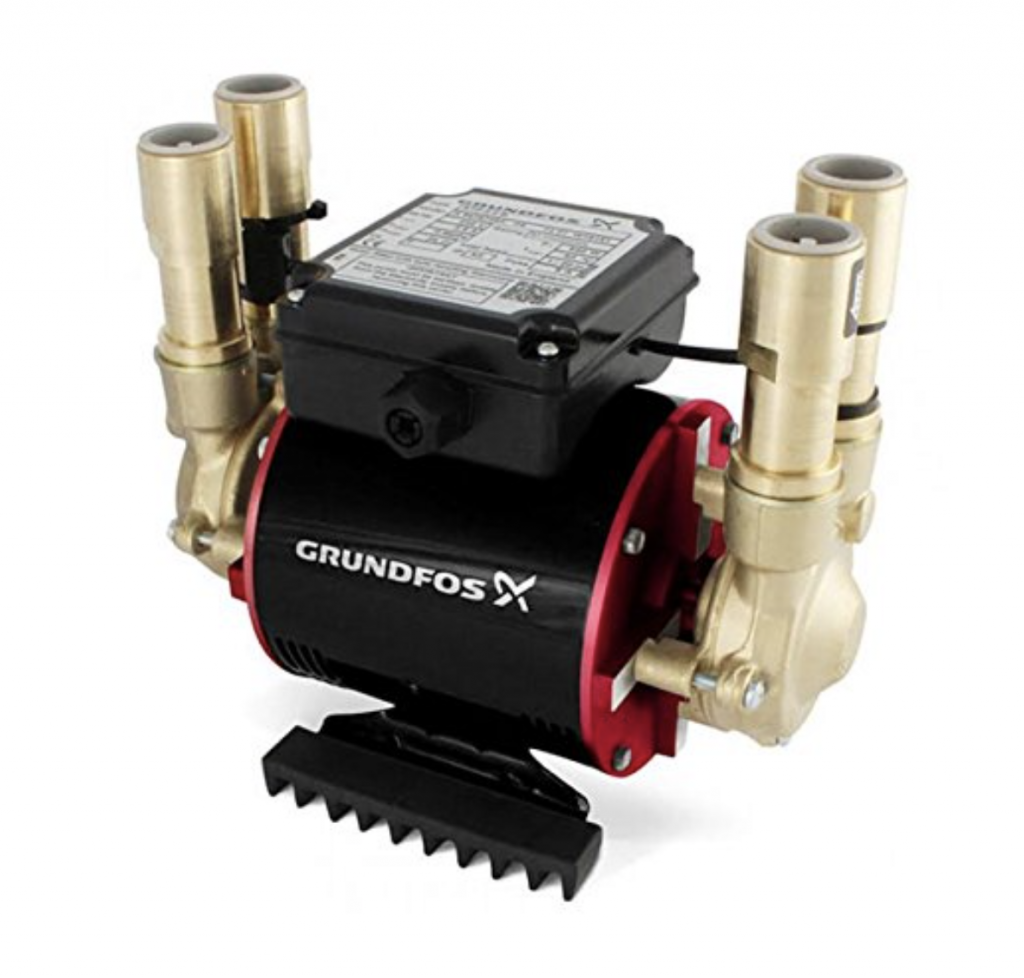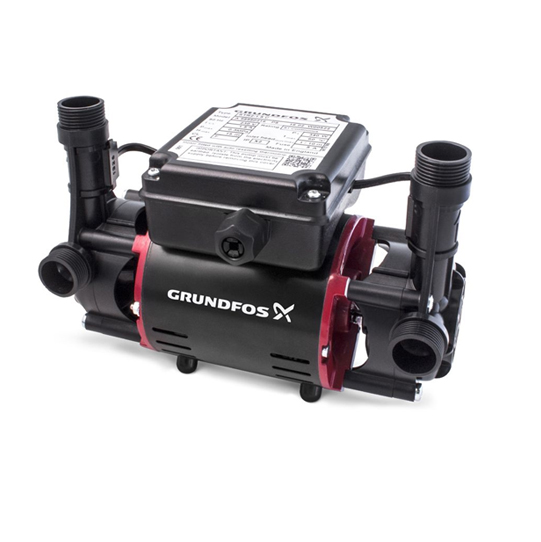 All pumps in this range are designed for domestic shower and bathroom applications and are covered by a two-year manufacturer's warranty. Choose from a bar of 1.5 and 2.0 bar pressure twin ended and 2.0 bar pressure single ended pumps.
Grundfos 2 bar Positive Head Shower Pump
This twin impeller centrifugal shower pump has been fitted with long lasting seals and is equipped with full easy clean filters and excellent quality braided stainless-steel connected hoses that would suit for use with 22mm pipework.
Grundfos STR 2-2.0 C, 2.0 Niagara Twin Bar Impeller Regenerative Shower Pump