YOUR TRUSTED DUBLIN PUMP REPAIR TEAM
Consult With Our Experienced Team Of Technicians For Solutions
Pumps Dublin are part of the well renowned Infinity Electrical Group. At www.ecoelectricheaters.ie, we also provide installations for brand new modern Eco Electric storage heating. If you have an immersion that has a fault and needs to be replaced then visit us at immersion-heater.ie. If you require any other assistance in relation to electrical or plumbing issues, then please contact Infinity electrical group on mobile: 083-1625009 or landline: 01-4458543.
FIXED PRICE REPAIRS INCLUDING PARTS, LABOUR AND VAT
12 months warranty on parts | Friendly and prompt service |  
| Full service on all pump repairs | Guide on how to use your pump
Why do you need Walrus Pumps?
Every home has a plumbing system. Well, every standard and good home anyways. How else would you access water; one of the most important things for regular everyday life? However, having water and having quality water service — now those are two different things entirely. You could be getting water when you need it, sure enough, but what's the quality? How well are you getting it? Let's face it, nothing is as annoying as having low water pressure; that's simply terrible on its own.
Low water pressure occurs when there is too much workload on the entire plumbing system; especially when it serves many users, as you would see in cases with apartment blocks or houses with many outlets. The plumbing systems usually run on gravity, and doing that much 'responsibility' may be a little too much for the unit, affecting how you can get your water. What a bummer
We know. It shouldn't even have to be so. You don't have to worry though, that's what Walrus Pumps is here for after all. Fixing worrisome problems with pumps and plumbing units is exactly what we do, and it usually just requires a very simple solution. It's all in repairs and installations, and that's all you need to get you flowing perfectly. Of course you'd need the perfect pumps and we've got a number of them, just for the purpose of getting your water pressure at the right rate, just as you like it.
What domestic use cases are Walrus Pumps Suitable for?
You're probably thinking; aren't the pumps basically just to pump water? Well, you could limit their use to just that. Technically you would be correct to state it that way. But there's so much more in the detail. Our pumps stock is capable of ensuring your water pressure in residential spaces is boosted immensely, and that your water supply is how it should be: clean, clear and non-abrasive. Here are few uses where you can use our pumps effectively
Clean water supply for your residences, whether they are apartments or houses.
Water supply and circulation for ponds, pools and other decorative water bodies.
Water supply for sprinkler systems to ensure your gardens and lawns are maintaining their green health.
Car wash? Get the best cleaning pressures for your vehicles.
Water supply and pressure to keep your aquariums and ponds suitable for all your fish / aquatic animals.
Drain groundwater.
Water supply for irrigating your farms, giving your crops the best treatment to grow and flourish.
The TQ200 electronic control pump is used for supplying water and pressure boosting majorly in domestic applications such as car washing, irrigation, circulation of water for pool or pond, and kitchen garden water sprinkling. The pump can also be used for commercial and light industrial pressure applications for surface and underground water pumping.
The TQ200 pump functions effectively with clean water and non-forceful fluids that are less thick. The pump is made across the board framework that constitutes a pump, engine, pressure tank, and electronic regulator. The electronic regulator gives a steady pressure factor that empowers the pump to start pumping automatically until the water runs out. After the water runs out, the pump automatically closes off the stream and naturally resets the pumping system. To shield the generator from overheating, the TQ200 pump contains an in-assembled over-load component that forewarns the system. The pump has an anti-cycling framework that stalls the pump operation when there is a minor trickling in the framework.
           The pump operates at an ambient temperature of 400C and a liquid temperature between 40 -400 C. The system's pressure is 8.5 kilograms per cm² and relative humidity of 85% (RH). When the pump is operating normally, no pressure adjustment is required except the cut-in pressure is greater than the system's preset activation point of 1.2 kilograms per cm² for the TQ200, 50Hz pump, and 1.4 kg/cm² for the TQ200, 60Hz pump. The 50Hz pump operates at a current of 2 Amperes, and the 60Hz TQ200 pump operates at 4.0/2.0 Amps. The 60Hz has a capacity of 60 L/Min, while the 50Hz has a capacity of 45 liters per minute. Both types of pumps have a power output of 0.18Kw.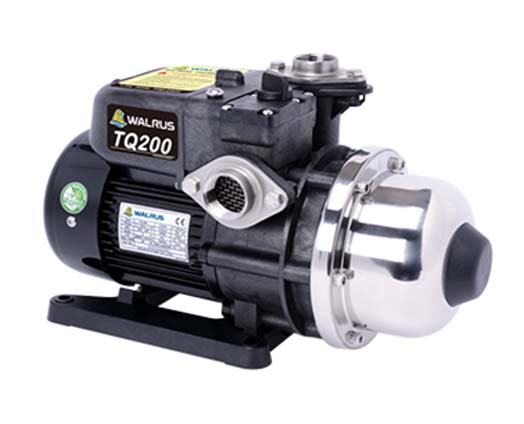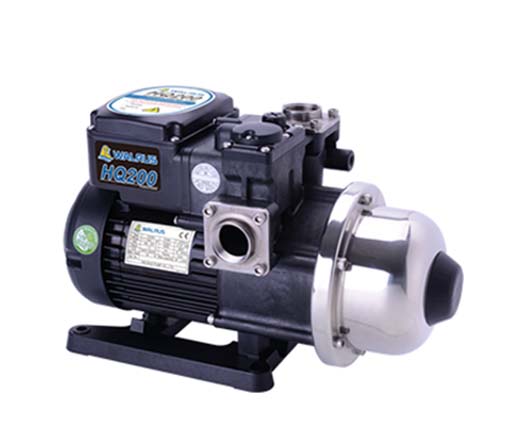 The Walrus HQ200 is an electronic control pump made for domestic use. The HQ200 pump is utilized for pumping water in domestic, commercial and less heavy industrial applications where low water pressure is experienced both on the surface and underground. The pump works well with clean water and non-aggressive liquids that are less viscous. The pump is made of an all-in-one system that constitutes a pump, an integrated motor, pressure tank, and an electronic controller (EC). The EC generates constant pressure that enables the pump to start automatically until the water runs out. After the water run-out, the pump automatically shuts off the flow and automatically resets the pump. To protect the generator from overheating, the pump contains an in-built thermal overload mechanism that prevents damages. The Walrus pump features an anti-cycling system that prevents the starting and stopping of the pump when there is a minor dripping or leakage.
The pump can pump water up to a height of7.6m with a foot valve and pumping suction pipes full of water. The HQ200 has two specifications 50Hz and 60Hz. The 50Hz HQ200 pump operates at a voltage between 200-240V and is rated at 0.18 KW. The pump has a maximum head of 24M and has a preset activation of 1.4kg/cm² and a maximum capacity of 55 liters per minute. The 60Hz HQ200 pump has an output power of 0.18Kw and operates at 110/220 Volt. The pump's preset activation is 1.4 kg/cm² and a pressure head of 24. The pump's capacity is 60L/min.
Walrus HQ400 is a water pumping device designed to boost water pressure from underground or water surface supplies. It is majorly used for residential, commercial, and light industrial purposes to boost water. This kind of pump must be used for clean, thin, and non-aggressive liquids as opposed to dirty and thick fluids. This pump comprises a motor, pressure tank, and an electric controller that provides constant pressure. It also ensures the pump starts automatically when water is being pumped and operates nonstop until the water runs out. The HQ400 also contains a thermal overload function that regulates the power and prevents it from burning out. The compact design makes it suitable for several applications.
The motor's in-built thermal overcharge protector prevents the system from overheating due to excessive operating temperatures and current. Moreover, the HQ400's anti-cycling mechanism prevents the pump from continuously starting and stopping due to problems like dripping taps or minor leakages in the pump system. This pump can pump water up to a height of 7.6m with a foot valve and pump suction pipes being full of water. For the various favorable features, this Walrus pump is considered among the best.
The HQ400 operates optimally under a set of conditions. The pump operates at a maximum ambient temperature of +40 degrees centigrade, maximum operating pressure of 8.5 kilograms per centimeters squared, and relative humidity of 85%. When the system is operating normally, no pressure adjustment is required.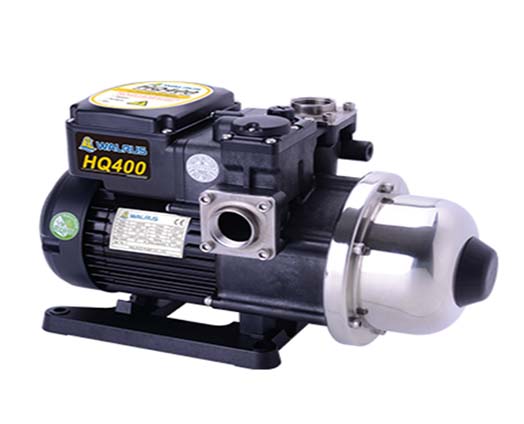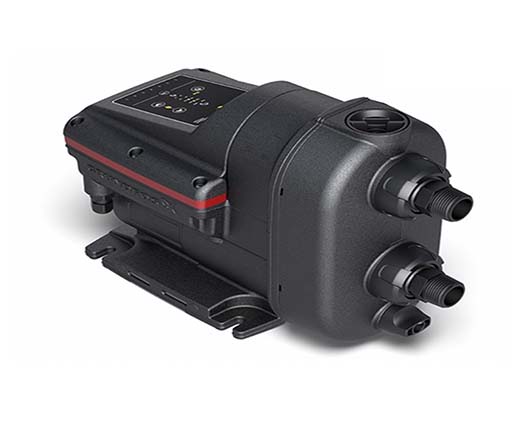 The SCALA2 is a fully integrated, self-priming whole house pressure boosting pump that delivers optimal water pressure to all house taps. The pump mechanism features an intelligent pump control, a water-cooled permanent magnet motor, tank, an in-built sensor, integrated drive, and non-return valve, all housed in one unit whose installation is quick and easy. The pump's intelligent pump control automatically adjusts the pressure output to meet the required demand. The pump delivers constant water pressure to all outlets at all times. The pump's water-cooled motor offers one of the reduced noise levels making it unique.
           The SCALA 2 pump has a user-friendly control panel for easy setup. The control panel consists of pressure indicator and pressure setting buttons, a power button, a reset button, and alarm indicator lights. For all domestic pressure boosting needs, the pump has an easy selection of a single variant. The pump has a maximum head of 148 feet, a maximum inlet pressure of 87 psi, while the system's maximum pressure is 145 psi. The water pumping mechanism is designed to operate at temperatures between32-113° Fahrenheit. The pump's maximum flow capacity is 5 M3/h. The pump has a noise level of 47 dB (A) during operation. Hence, the SCALA2 is one of the most comfortable and silent pressure boosters in its league.
The pump can be installed in three easy steps. It is first connected to pipes, primed, and then connected to power. The SCALA 2 pump is most suitable for houses with three floors and a maximum of eight tapping points.