Pumps Dublin are part of the well renowned Infinity Electrical Group. At www.ecoelectricheaters.ie, we also provide installations for brand new modern Eco Electric storage heating. If you have an immersion that has a fault and needs to be replaced then visit us at immersion-heater.ie. If you require any other assistance in relation to electrical or plumbing issues, then please contact Infinity electrical group on mobile: 083-1625009 or landline: 01-4458543.
FIXED PRICE REPAIRS INCLUDING PARTS, LABOUR AND VAT
12 months warranty on parts | Friendly and prompt service |  
| Full service on all pump repairs | Guide on how to use your pump
Dublin's NO.1 Stuart Turner Pump Technicians
Do you have a faulty Stuart Turner pump in your house or Dublin apartment? Or thinking about having a Stuart Turner pump installed in your home?
Then look no further as we are Dublin's number one Stuart Turner pump installation and service providers.
We have a wealth of experience in installing and servicing Stuart Turner pumps in the Dublin and surrounding areas and we install and repair a wide range of Stuart Turner pump models.
If you are having problems with your water pressure and need advice on upgrading your system call our offices now to arrange an appointment with one of our experienced electricians who will be happy to help you find a solution to your pump requirements. We can help provide solutions from a simple Stuart Turner repair to a brand new pump installation and we also offer a no fix no fee policy on repairs in Dublin.
ABOUT STUART TURNER PUMPS
Stuart Turner pumps are intended to support and meet the requirements of a many domestic water pressure issues and can help boost the water pressure in your house or apartment from a power shower or one tap, a whole bathroom and the whole property, they are most commonly found in Dublin apartments.
Stuart Turner Monsoon pumps are manufactured from brass and steel and Shower Mate models are plastic. Both models are equally durable and reliable and have a lifespan of around eight to ten years depending on usage.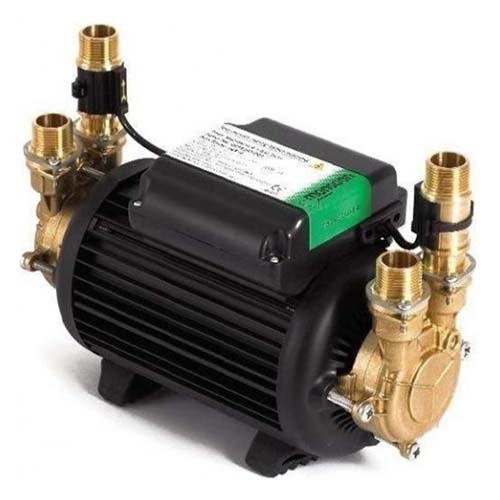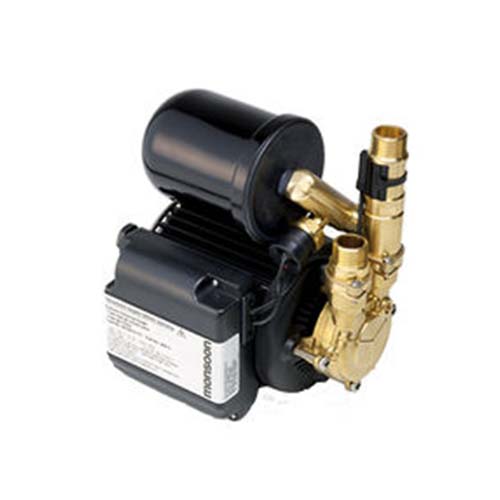 THE STUART TURNER PUMP RANGE
Stuart Turner Monsoon Pumps
Stuart Turner Monsoon pumps are a range of high performance, premium quality, brass domestic shower pumps and come with a 5 year manufacturer's warranty. Have a look below at the most commonly installed models.
Negative Head Models (M330N M550N): (Brass)
Stuart Turner Monsoon M330N 1.5 Negative Head
The Stuart Turner M330N pump is made of brass and steel and is a very durable water pump.
This is a negative head pump that is most commonly used to pump and boost water flow to one or two bathrooms and will also boost hot and cold water to a kitchen outlet.
This pump is one of the most common Stuart Turner pumps installed in apartments across Dublin.
Stuart Turner Monsoon M550N 3.0 Negative Head
The Stuart Turner M550N 3.0 bar is a negative head pump and is a high powerful high pressure pump that is capable of pumping and boosting water flow throughout an entire house for example: to three bathrooms, sinks, kitchen outlets and showers simultaneously.
Stuart Turner Monsoon
Stuart Turner Monsoon Universal Positive Head 3 Bar Twin Pump
This pump is suitable for boosting hot and cold water throughout your entire house or apartment. The 2 Bar pump and 3 Bar pump are the most common types of pumps used in apartments.
Stuart Turner Monsoon Universal Negative Head 2.0 Bar Twin Pump
This pump has push in hoses and can boost water pressure throughout your entire home and can be used in a positive or negative head situation.
STUART TURNER SHOWERMATE PUMPS
Stuart Turner SHOWERMATE – Positive Head Models(ST55 ST66): (Plastic)
Please note, the ST 15 & ST 20 Stuart Turner Pumps are the replacement model for the older ST 55 & the ST 66.
The Stuart TurnerST55 and ST66 water pumps are an ideal water booster pump to boost water to one or two shower outlets in either an apartments or house.
The ST55 pump is normally used to pump water to a single shower outlet. This is a positive head pump and can sometimes require repair.
Stuart Turner ST55 1.5 Bar
This pump is a positive head pump with 2 inlet and 2 outlet connections. It is a plastic pump and very durable and can be very quiet compared to most other shower pump models.
Stuart Turner ST66 1.5 Bar Pump
The ST66 pump is very similar to the ST55 shower booster pump described above.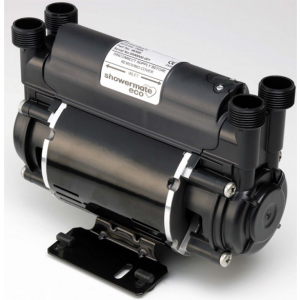 STUART TURNER PUMP REPAIRS AND SPARE PARTS
Stuart Turner water booster pumps are hardworking pumps which provide a boosted water supply in your apartment/home 24 hours a day 7 days a week and understandable sometimes they may need a slight repair after a few years but there is no reason why you shouldn't get the full eight to ten years out of your pump once you have had a good quality inspection and repair. Almost all Stuart Turner pumps are repairable no matter what the problem is and it is generally cheaper to have your Stuart Turner pump repaired rather than purchasing a brand new one.
In general, people are usually unaware that most Stuart Turner water pumps are capable of repair depending on the severity of the problem. Either way, for a repair, full replacement or new installation, one of our very experienced technicians can be on hand very quickly in the Dublin area to inspect the problem for you.
If you need any advice on which water pump installation would suit you best or you need help with a repair, then please call our help desk on 0831625009 or 01-4458543
We repair all types of Stuart Turner Monsoon pumps (most common in domestic properties including houses and apartments in Dublin) including:
Stuart Turner ST55 ST66 and ST77 pumps.
Monsoon S 2.0 pump
Monsoon S 3.0 pump
Monsoon M550N 3.0 bar negative head pump
Monsoon negative head & positive 1.5 bar pump
Monsoon negative head & positive 2.0 bar pump
Monsoon negative head & positive 3.0 bar pump
Monsoon negative head & positive 4.0 bar pump
We also replace the following Stuart Turner Shower mate pumps:
Stuart Turner Showermate 1.5
Showermate 2.0.
We also carry a selection of Non-Return Valves for when there is no water flow.
Some parts may need to be removed to our workshop for specialist repair but most repairs can be done on site and all of our Dublin pump repair team carry fully stocked vans with parts for the most commonly used Stuart Turner pumps in Dublin including:
PCB Circuit boards
Capacitors (for when your pump is humming)
Mechanical seals
Starting capacitors
Pressure switches and seals (should you have a leak coming from your Stuart Turner Monsoon pump)
Pressure vessels
Magnetic reed switches
Plastic impeller wheels
Filters
Service kits